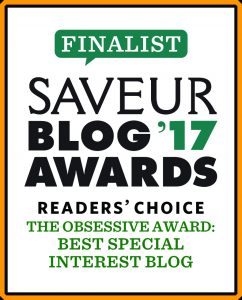 THE NOM HAS BEEN NOM-INATED FOR THE SAVEUR FOOD AWARDS! Out of 30,000 food blogs, they chose the Nom as one of the 6 best "Food Obsessed Blogs" for 2017! Now the voting has opened up to the public and we have a month to vote! Please, go to http://www.saveur.com/blog-awards-2017-vote  and scroll 2/3 of the way down the page and you'll see where you can vote for my site. The voting is totally free and easy, you don't have to sign up for anything…just click the button next to The Nom and then click vote! That's it!
We can vote once a day for the next month!
And while you're there, check out the rest of the incredibly talented nominees…there's so much amazing talent out there!
THANK YOU TO EVERYONE WHO PARTICIPATED IN THE INITIAL NOMINATIONS! SAVEUR AGREES WITH US…THE NOM IS AWESOME!