I love being organized.  Having everything in its place makes me so happy…which is why I love these super easy paper skull boxes.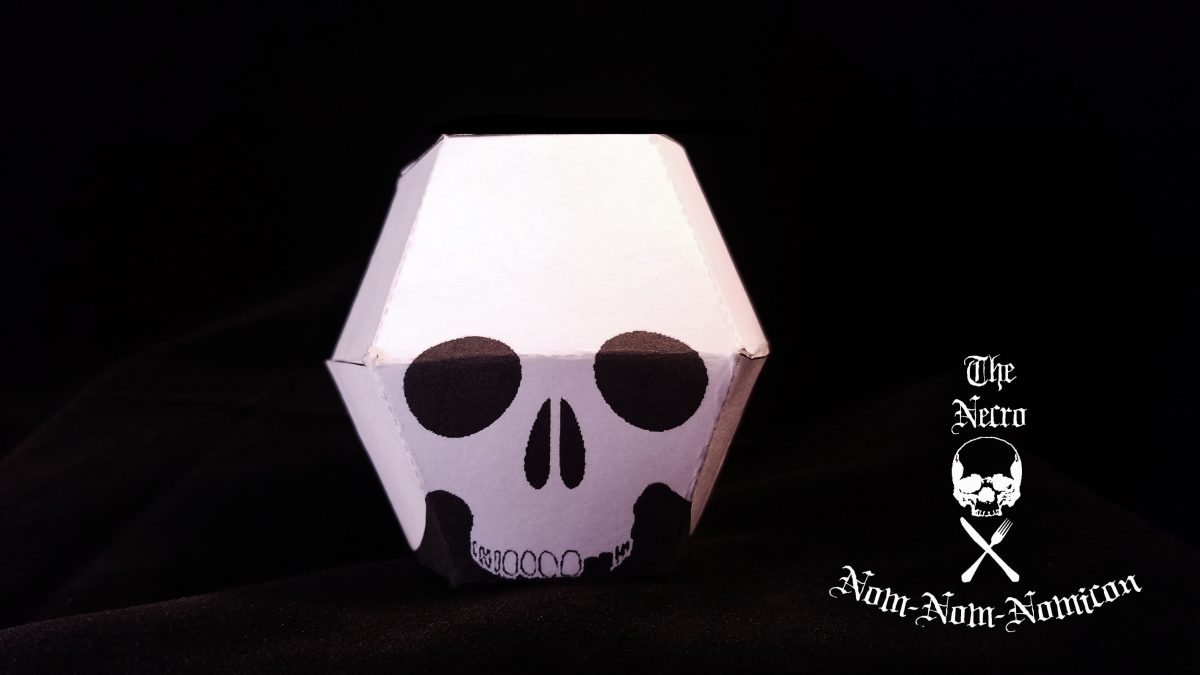 They're just the right size for a few truffles or treats.  They're also great for holding onto small things like paperclips and the shriveled remains of my ex's heart.
Simply download the template here…easy-paper-skull-box.
Open the file and print it out on thick card stock.  Be sure to check "Portrait" and "Size to fit."
It should look like this when it's all printed out (but bigger, of course):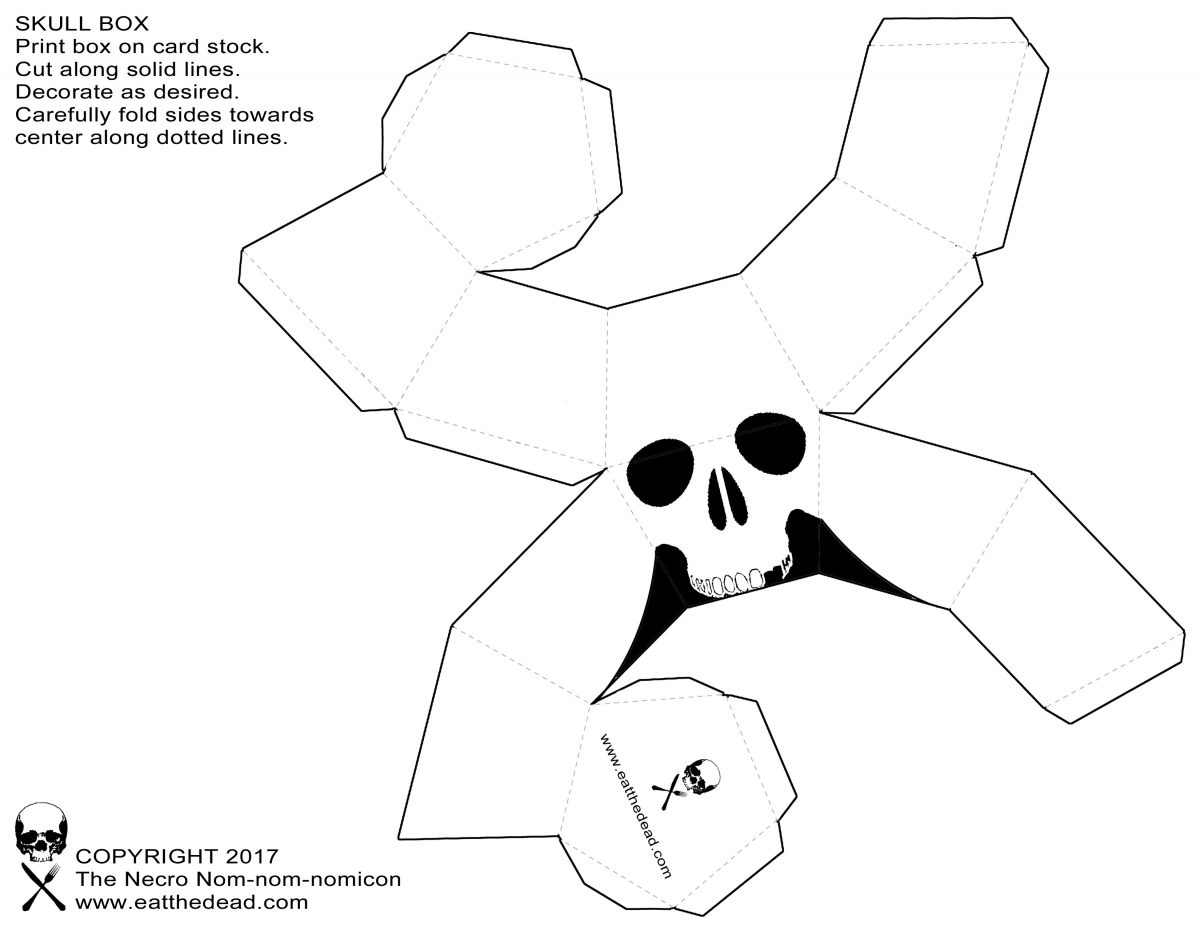 Cut along the solid lines, fold along the dotted and use a few pieces of tape to secure it all together and voila!  Easy paper skull box!
I would suggest printing them on heavy card stock if you plan on using them to hold trinkets or treats.  Save the top flap for last as it will make stuffing your box easier.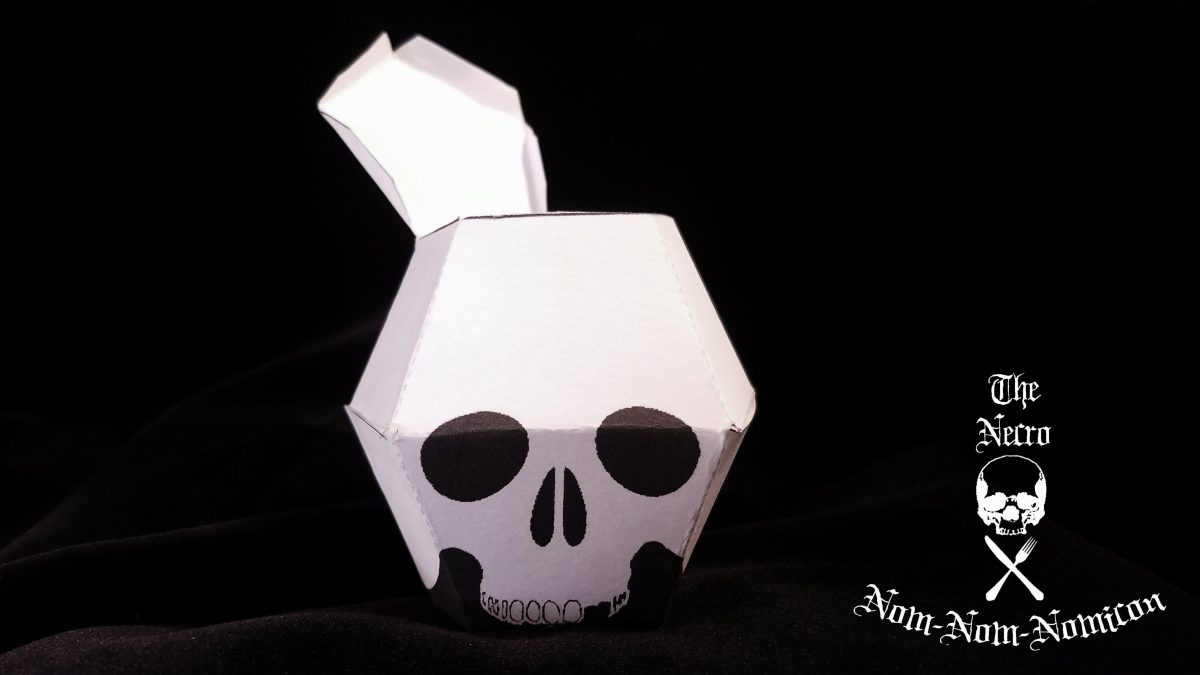 And for a really bright idea (ahh, the puns…), print out a skull box on translucent vellum, cut off the bottom flap, assemble as directed, and place over an electric tea light (and please, make sure it's electric.  I don't need you burning your house down by using a real candle).
" Vampire Banquet" by PlayOnLoop.com
Licensed under Creative Commons By Attribution 4.0
So, what are you going to put in your easy paper skull box?  Let me know…I'm dying to hear!
And don't forget, I'm still running the contest for the custom laser engraved Necro Nom-nom-nomicon Yeti mug!  Click HERE to enter!
The giveaway will run from February 1st through March 1st with a winner being randomly selected and announced on the 6th of March.
If you'd rather not wait and just want to grab your own Necro Nom-nom-nomicon Yeti now…click here!
Like what you see?  Want to see more?  Help me keep making my disgusting creations by visiting my Patreon page.
Please click HERE to support the Necro Nom-nom-nomicon


THIS WORK IS LICENSED UNDER A CREATIVE COMMONS ATTRIBUTION-NONCOMMERCIAL, NO-DERIVATIVES 2.5 INTERNATIONAL LICENSE.  YOU'RE WELCOME TO MAKE ANYTHING AND EVERYTHING SHOWCASED ON THE NECRO NOM-NOM-NOMICON, BUT MAY NOT DO IT FOR COMMERCIAL OR FINANCIAL GAIN.  YOU MAY NOT COPY, DISTRIBUTE OR MODIFY THESE RECIPES IN ANY WAY WITHOUT EXPRESS WRITTEN PERMISSION FROM THE NECRO NOM-NOM-NOMICON.  NO RECIPE, TUTORIAL OR PROJECT MAY BE USED FOR COMMERCIAL OR PROFIT USE.