Halloween Recipe: Krampus Ember Cookies
Details

2 Comments

Related Items
These sweet little black and red treats are the sugar and butter laden siblings to our famous
Brimstone Bread
! Similar in look, but different in taste, these delicate cookies are easy to make and are the perfect snack to leave out for Krampus' visit!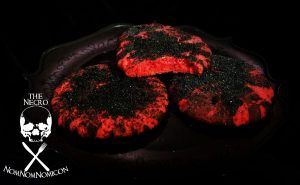 Personally, I like to cook these little bastards by shoving them into a sulfur vent for added flavor, but for you mortals, an oven works just as well.
For this recipe you will need:
2 cups white granulated sugar, divided
1/2 cup powdered sugar
1 cup butter, room temperature
1 teaspoon vanilla (or almond…dealer's choice!)
1 egg, room temperature
2 1/3 cup flour
1/2 teaspoon baking soda
Red food coloring
Black food coloring
Start by first pre-heating your oven to 200F/93C.
In your mixer, beat together 1 cup of your white granulated sugar and butter until light and fluffy, about 5 minutes.
Mix in your vanilla, egg and red food coloring.  Add enough food coloring to achieve a deep, blood red color.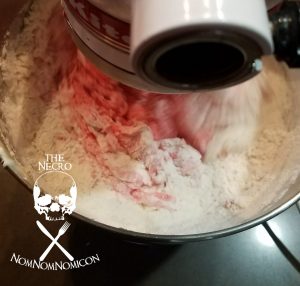 The Devil is in the Details: I suggest using the Wilton gel food coloring as it's a concentrated gel and you will get deep red color using less than you would of the liquid food coloring.
Continue to mix the dough until it comes together in a sticky ball.
Wrap in plastic wrap and pop into the fridge to chill while we prep your black sugar.
Pour your remaining 1 cup of white granulated sugar into a Ziplock bag.  Add in a few drops of black food coloring and knead the bag to distribute.  Continue to add black food coloring and kneading the bag until you achieve a jet black mixture.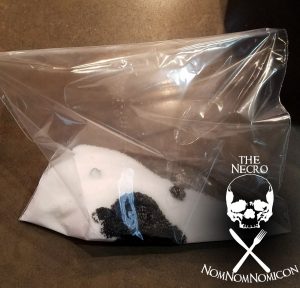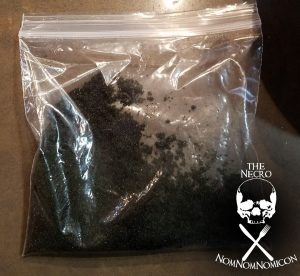 The sugar will be slightly damp so we'll need to dry it out.  Spread it onto a parchment lined cookie sheet and pop into your 200F/90C oven for approximately 7-10 minutes.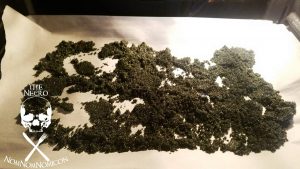 When you pull it out it should be completely dry.
Place your black sugar into a food processor along with your 1/2 cup of powdered sugar and pulse to fully mix and break up any large chunks of black sugar.  It will turn grey but don't worry…this is fine.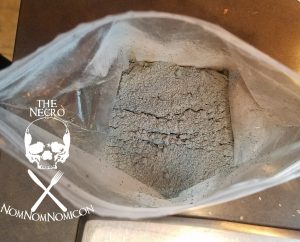 Raise the temperature of your oven to 375F/190C.
Take your chilled cookie dough out of the fridge and form into 1″ balls.
Drop each dough ball into your grey sugar and roll to coat evenly.  You want a nice thick coat on each cookie, so double-dipping is strongly encouraged.  I suggest waiting about 5 minutes between the first coat and the second coat to give it a chance to really stick.  I'll start by rolling my dough balls and then placing them on the tray.  Once I get a full tray, I'll go back and re-roll them all again, starting with the first one I rolled.
Your dough balls should be coated evenly with a thick grey layer.  While this looks strange now, don't worry, magic will happen in the oven, I promise!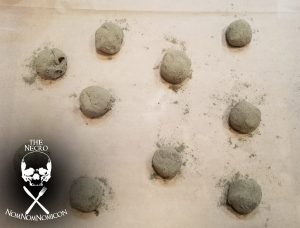 Transfer to a parchment lined cookie tray, spacing about 2″ apart.
Use bottom of a glass dipped in your grey sugar mixture to gently flatten the cookies.  You barely want to flatten them out, don't smash them completely flat.  They'll continue to flatten slightly as they cook…you just want to get the process started!
As they cook, the moisture from the dough will turn the sugar coating jet black.  This coating will stretch and crack as they cook, resulting in the brimstone bread like crunchy topping!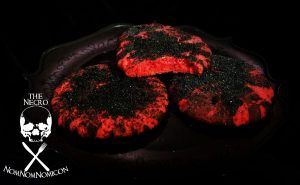 Bake your cookies 9-11 minutes or until set.  They'll still be soft when you pull them out of the oven but will firm up as they cool.  Transfer to a wire rack and allow to fully cool.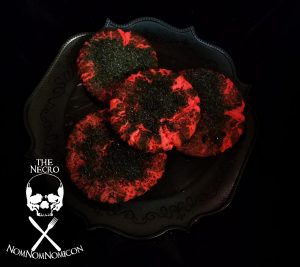 And if you feel like making even more Krampus inspired treats, might I suggest a batch of cinder toffee or sweet sugar coal?
Bone appetite!!!
Like what you see?  Want to see more?  Help me keep making my disgusting creations by visiting my Patreon page.
Please click HERE to support the Necro Nom-nom-nomicon



THIS WORK IS LICENSED UNDER A Creative Commons Attribution-NonCommercial, No-Derivatives 2.5 International License.  You're welcome to make anything and everything showcased on the Necro Nom-nom-nomicon, but may not do it for commercial or financial gain.  You may not copy, distribute or modify these recipes in any way without express written permission from the Necro Nom-nom-nomicon.  No recipe, tutorial or project may be used for commercial or profit use.
Related