Halloween Recipe: Key S-lime Pie
Details

4 Comments

Related Items
Being a demon is hard work!  It was an insane weekend, full of obligations and last minute rushing around, but somehow during all that chaos, I managed to find a quiet minute and whip up a cool citrus pie.  When it's as insanely hot as it's been down here these past few weeks, a slice of icy cold no-bake key slime pie can make any sultry night more bearable.  And the addition of chewy, delicious gelatin tentacles elevates this pie from simple dessert to show stopping centerpiece.
To make your own key slime pie, you will need: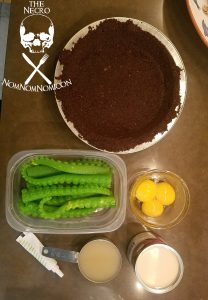 3 eggs, separated into yolks and whites
1 14 oz can sweetened condensed milk
1/2 cup (about 3 medium limes) key lime juice
2 tablespoons unflavored gelatin
Green food coloring
1/4 teaspoon cream of tartar
1/4 cup sugar
Pie crust (I used a dark chocolate cookie crust)
In a microwave safe bowl, sprinkle your unflavored gelatin over your 1/2 cup of lime juice and allow to bloom for 10 minutes.  Once bloomed, microwave for 45 seconds, stirring every 15 seconds or until the gelatin is completely dissolved.
In a food processor or mixing bowl, whip the egg yolks until light. Drizzle in the sweetened condensed milk and continue to mix.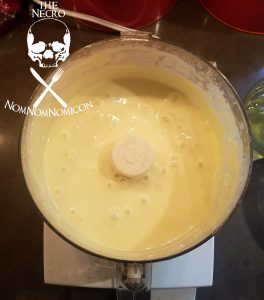 Drizzle your lemon juice/gelatin mixture slowly into your egg/condensed milk, continuing to whip as you do.
Add in green food coloring until you are happy with the shade of green.
Pour this mixture into your prepared pie crust.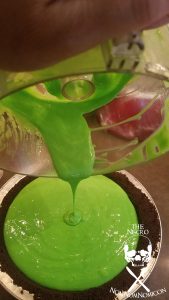 Arrange your tentacles in the pie in a wagon spoke pattern, radiating out from the center.
Place your pie into the fridge for two hours to firm up.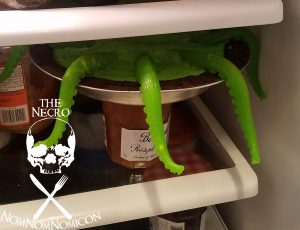 While your pie is setting, it's time to make the meringue.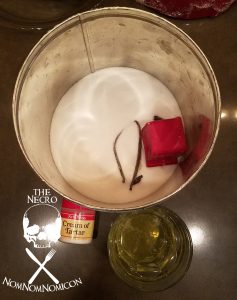 Whip your three egg whites on medium until light and foamy.  Add in your cream of tartar and sprinkle in your sugar as you continue to whip.
Turn your whisk up to high and continue to beat until your egg whites are glossy and hold a stiff peak.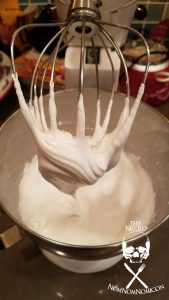 Transfer your meringue to a piping bag and decorate the top of your now chilled pie.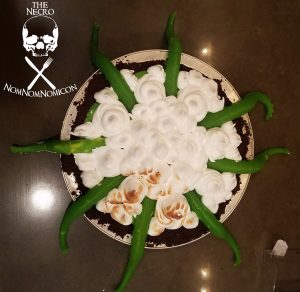 To give your meringue a nice toasted color and a little crunch, hit it lightly with a propane torch.  Because this is a cold pie, DO NOT PUT IT IN THE OVEN UNDER THE BROILER.  You'll melt your tentacles.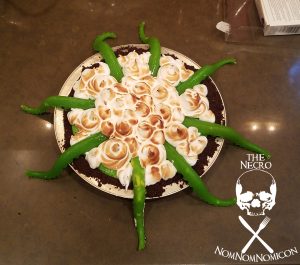 Once you're satisfied with your meringue toasting, display and serve!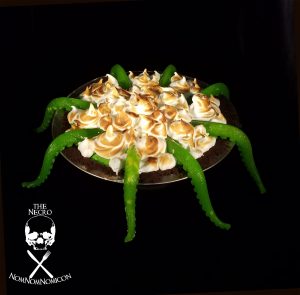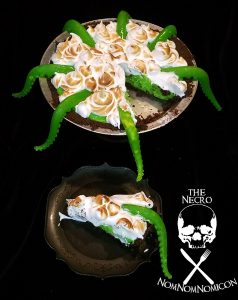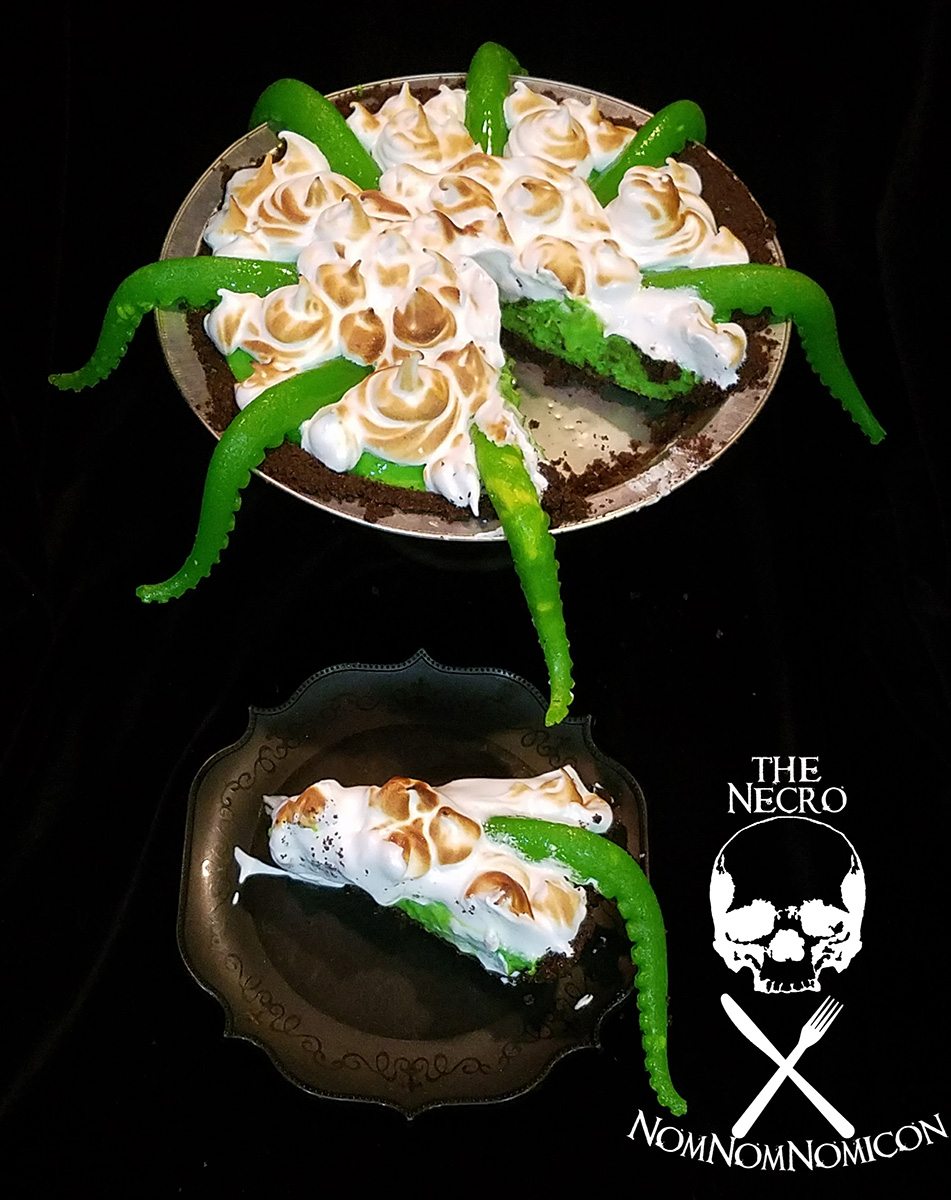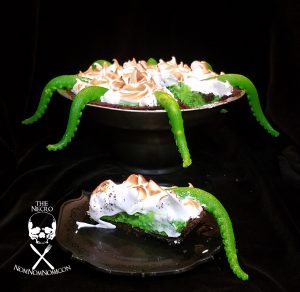 Bone appetite!
Like what you see?  Want to see more?  Help me keep making my disgusting creations by visiting my Patreon page.
Please click HERE to support the Necro Nom-nom-nomicon



THIS WORK IS LICENSED UNDER A Creative Commons Attribution-NonCommercial, No-Derivatives 2.5 International License.  You're welcome to make anything and everything showcased on the Necro Nom-nom-nomicon, but may not do it for commercial or financial gain.  You may not copy, distribute or modify these recipes in any way without express written permission from the Necro Nom-nom-nomicon.  No recipe, tutorial or project may be used for commercial or profit use.