Halloween Recipe: Sweet and Sour Shortbread Bones
Details

Leave a Comment

Related Items
Before we get started, I should let you know, **This post contains affiliate links and a promotional product.
Mmm…sometimes there's nothing better than a batch of freshly roasted bones, still warm from the oven, to make a demon smile. Now, while there are lots of recipes out there for roasted bones, including this one, there are very few recipes for sweet and sour bones.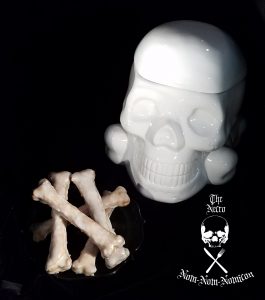 Normally sweet and sour bones are made from the soft and supple limbs of the well fed young, but can be so difficult to procure (you have to know a specific type of witch who lives in a specific type of confectionery house in a specific type of woods) that they are usually reserved only for incredibly special demon occasions…which is why I've come up with this much easier to reproduce recipe.
These bones are sweet with a sour glaze.  The combination is a perfect balance, starting with a pucker of tart tempered with a taste of rich buttery sweetness.  These bones are perfect for straight up munching but are even more ridiculously delicious when dunked into coffee or tea.
To make your own sweet and sour bones you will need: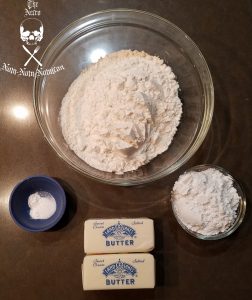 2 cups white flour
3 ½ cups powdered sugar divided into 3 cups and ½ cup
1 cup butter, room temperature
½ teaspoon salt
¼ teaspoon baking powder
Lemon juice
Mix together your softened butter and ½ cup of your powdered sugar until light and fluffy.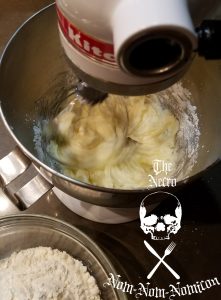 In a separate bowl, combine together your flour, baking powder, and salt.
Sift your flour combination into your softened butter and mix well.  As you add the flour mixture, your dough will come together into a crumble that should hold together when pressed into a ball.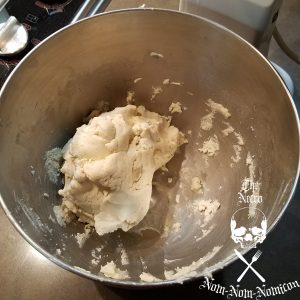 Flatten the ball into a disk, wrap with plastic wrap, and place in the fridge for 30-60 minutes to chill.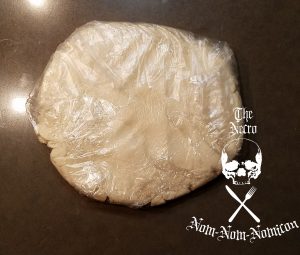 Preheat your oven to 350F/170C.
You can make your bones one of two ways.  The first way involves using a pre-formed cookie sheet, like this one.  Simply grease and flour your pan.  Then crumble up your chilled cookie dough and press into the mold, making sure to pack it tightly.
Using a fork, carefully poke holes along the length of your bones.  This will help them cook evenly.
If you're not using a cookie pan shaped like bones, you can roll your dough out ¼" thick and then cut out the shapes you want using either a cookie cutter or a sharp knife.  Again, make sure you dot the surface of your dough with small holes via a fork.  Transfer these to an ungreased cookie sheet.
If you're using the bone molded pan, bake your cookies for approximately 25 minutes.  If you've rolled and cut your dough out, only cook them for 20 minutes.
Allow your cookies to cool completely on a rack.
While your cookies are cooling, it's time to make the sour glaze.
Put your remaining 3 cups of powdered sugar into a clean bowl.  Slowly drizzle in your lemon juice a tablespoon at a time until you achieve a thick but smooth glaze.  It should have the consistency of room temperature honey.
Drizzle this over your completely cool bones or dip them straight in for full coat coverage.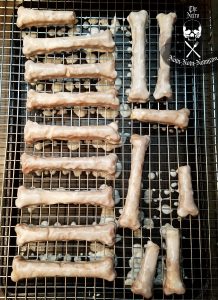 Allow them to sit out for at least an hour.  This gives the glaze time to set up and creates a smooth, firm shell.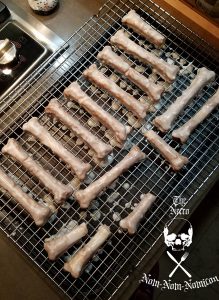 These cookies can sit out on a platter for up to 3 days or store in an airtight container for up to a week.  If you're looking for the perfect way to store your sweet and sour bones, we can't tell you how much we love the skull cookie jar Sourpuss clothing sent us.  It's big enough to hold 3 batches of sweet and sour bones and a batch or the bat-caroons we made earlier this week as well!  Did we mention that it's HUGE?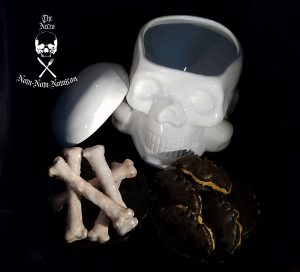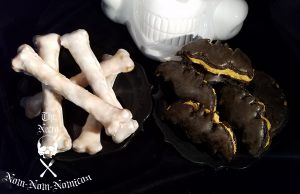 If you're looking for even more fun things to accessorize your demonic den with, might we suggest you swing by their site and check out all their amazing housewares accessories (I'm secretly in lust with this batty key holder and this ridiculously adorable voodoo doll.)
Bone Appetite!
This post contains sponsored content brought to you by Sourpuss Clothing.  They were kind enough to send me this amazing cookie jar to promote in this post, but all opinions and views presented here are 100% strictly my own. Affiliate links included in this post help support the site. Sponsored posts like this allow me to keep bringing disgustingly delicious content to you for free!  And remember, I will never share or promote a product I don't personally appreciate or actively use myself. For further information please see my full advertising disclosure page.
Like what you see?  Want to see more?  Help me keep making my disgusting creations by visiting my Patreon page.
Please click HERE to support the Necro Nom-nom-nomicon



THIS WORK IS LICENSED UNDER A Creative Commons Attribution-NonCommercial, No-Derivatives 2.5 International License.  You're welcome to make anything and everything showcased on the Necro Nom-nom-nomicon, but may not do it for commercial or financial gain.  You may not copy, distribute or modify these recipes in any way without express written permission from the Necro Nom-nom-nomicon.  No recipe, tutorial or project may be used for commercial or profit use.