Halloween Recipe: Chocolate Bat Macarons with Pumpkin Spice Butter Cream
Details

Leave a Comment

Related Items
Before we get started, I should let you know, **This post contains affiliate links and a promotional product.
They say the devil is in the details, and when it comes to cookies like Macarons, it couldn't be truer. These cookies were created by Satan himself.  No, really.  Popular lore will tell you they came from a brilliantly mad French baker, but who do you think gave him the idea for a cookie this frustratingly delicate; this agonizingly temperamental; this disgustingly delicious tasting in the first place!?!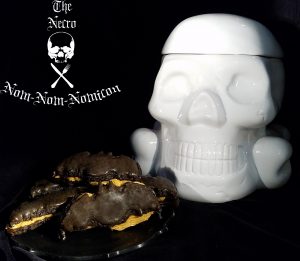 Yup…the big guy himself.
Now, like I said earlier, the devil is in the details…which means this is a cookie that takes time, patience, and serious attention to detail.  Don't go thinking you can just bang out a batch of these without a little prep.  Oh sure, you'll end up with something…but it won't be a true macaron…
Of course, when you make cookies like this, you need an appropriately themed cookie jar to store them all in.  I was lucky enough to have been contacted by the amazing team at Sourpuss Clothing who helped me solve this problem by sending me this adorable, huge skull shaped cookie jar (and since you're wondering, yes, it also comes in black!)
To make your own bat macarons (dare I say, bat-carons?) you will need: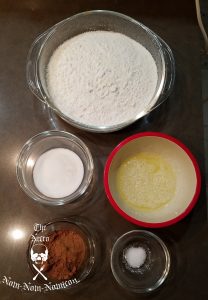 2 cups powdered sugar
1 cup almond flour, finely milled
3 tablespoons dark cocoa powder – unsweetened
1/2 tablespoon pumpkin spice
1/4 teaspoon salt
3 large egg whites (or 4 small egg whites) at room temperature
Pinch of cream of tartar
3 tablespoons caster sugar
To make your pumpkin spiced butter cream filling, you will need:
2 cups powdered sugar
1/2 tablespoon pumpkin spice
1/4 cup pumpkin puree
2 tablespoons butter (room temperature)
1/4 teaspoon vanilla
Splash of whole milk
*Be aware that activated charcoal can present problems for anyone who is on certain medications. While the activated charcoal does turn food a fantastically dark black color, it's better to be safe than sorry. For more information on charcoal and how it interacts with medication, check out this link. When in doubt, use a black liquid or gel food coloring.
The first thing you need to do is prep your egg whites.  While it is possible to do this recipe with fresh from the fridge cold egg whites, the results won't be nearly as impressive.  To make this easier, you need to properly age your egg whites.  The night before you make your bat-carons, separate your egg whites from the yolks.  Make sure to clean out any white stringy bits so you're left only with the whites.  Whip these lightly to combine then cover with plastic wrap.  Poke a few holes into the wrap to allow for evaporation, then leave out on your counter for at least 6 hours.  Don't worry about "spoilage" or anything like that…leaving your egg whites out like this will help strengthen the protein bonds when you whip them later, but won't be long enough for the whites to turn bad.  Now, if you're in the middle of a screaming heat wave, or find yourself in Hell where the temperatures are routinely over a thousand degrees at night, it might be a good idea to put the egg whites somewhere a little cooler — but for the majority of you all, overnight in your kitchen should be just fine.
Next print out two copies of the bat-carons template sheet, making sure it's scaled for 8 1/2 x 11 paper.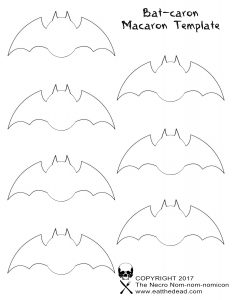 Place the two templates on your baking sheet and cover with a piece of parchment paper or translucent silicone baking sheet.  You should be able to see the template through the parchment paper/silicone sheet.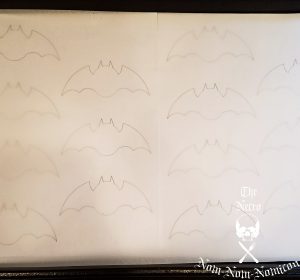 You will also need a pastry bag and at least one tip.  I used a 1/4-inch plain tip to do the outlining and switched over to a 1/2-inch plain tip for filling in, but you could get away with just the 1/4-inch tip…it'll just take you longer to fill in the shapes.
Sift together your powdered sugar, almond flour, charcoal, pumpkin spice, cocoa powder, and salt.   Discard any major lumps. Whisk together until fully combined.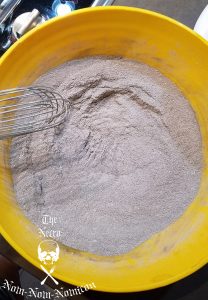 In a separate, clean and dry bowl, whip your aged egg whites on medium speed for about 30 seconds or until they're foamy and just turning white.  Add your pinch of cream of tartar and increase the speed to medium-high and continue to beat for about 1 more minute.  The egg whites should turn fully white and you should be able to see the lines of the whisk in the whites as you beat.
Slowly add in your caster sugar a little at a time, continuing to beat on medium-high.  Continue to whisk until your egg whites are fully combined with the sugar, are brilliantly white, and holds stiff peaks when the whisk is lifted out.  This should happen within a minute or so of adding the sugar.  Do not overbeat!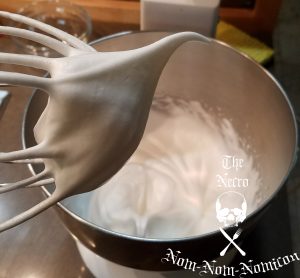 Using a spatula, slowly add your dry mixture to your meringue, sifting in 1/3 at a time (yes, I know you already sifted it…but you want to sift it again!)  Fold your dry into your wet by scooping and turning the contents of the bowl with your spatula just until the mixture is combined.  Your egg whites will deflate as they are mixed in…but don't worry, that's fine.
Continue folding until there are no traces left of the egg whites and the entire mixture is well incorporated.  It will look like shiny cake batter at this point and should have a consistency of thick honey and should slowly drip off your spoon when held over the bowl.  Again, don't over mix.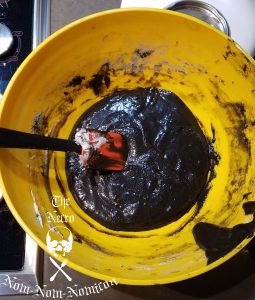 Transfer your bat-caron batter to your piping bag and screw on your 1/4-inch plain tip.
Carefully outline your bat-caroon, following the lines on the template.  The batter should be thin enough to trace the lines cleanly, but thick enough it doesn't run or flatten out.  You should be able to get 14 bat-caroons onto a single standard sized cookie sheet.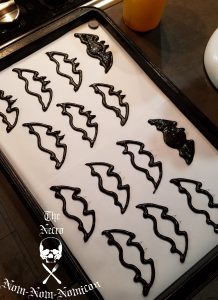 Once you're done outlining, switch tips and use the 1/2-inch to fill in the design.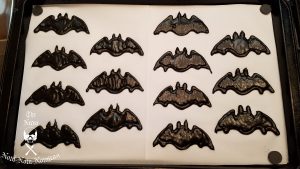 After all the bat-carons are piped and filled, pick up your cookie sheet and bang it against your counter lightly.  This serves three purposes…
 Helps to settle the batter so the foot (that crunchy little bubbly part around the edge of your macaron) forms evenly
 Helps to knock out any air bubbles and smooth out your pattern which might result in uneven cooking or crumbled skin on the surface of your macaron
 Terrifies the hell out of your dog and reminds them they shouldn't be sleeping right in front of the oven (Sorry, Lucifur!)
Let your bat-carons sit, undisturbed, for between 30-60 minutes. You want the surface of your bat-caron to slightly dry out and form a thin skin, but not to completely dry out.  You'll know they're ready to cook when you can touch them and they're not sticky and have turned from shiny to dull, but still have a slightly soft feel to them.
While your bat-carons are resting, pre-heat your oven to 350F/170C and put your baking rack into the center of your oven.
Take your rested bat-caroons and place the tray onto a second baking tray of the exact same size.  This step is optional but will provide a little extra protection against burning the bottom of your bat-carons.
Bake your bat-carons for 7 minutes at 350F/170C.  At the  7-minute mark, rotate the sheet a half turn and continue to bake for an additional 6-7 minutes.
Transfer your baked bat-carons to a rack and allow to cool completely.
To make your pumpkin spice butter cream filling:
Combine your butter, spices, vanilla and pumpkin puree.  Slowly add in your powdered sugar 1/4 cup at a time, whipping until you achieve a smooth, fluffy consistency.  If your frosting is too thick, add a splash of milk (1/4 teaspoon at a time).  If it's too thin, add in additional powdered sugar, a tablespoon at a time.
Once your frosting is the consistency you want, use it to fill a piping bag and attach a 1/2 inch star tip.
When your bat-carons are fully cooled, carefully pipe your filling onto one-half and place a second bat-caron on top to create a perfect, pumpkin spiced bat-caron sandwich.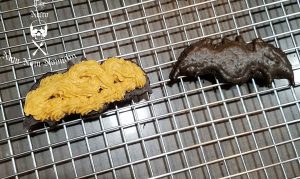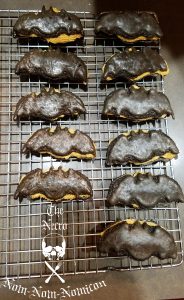 These tasty little denizens of darkness should store well in an airtight container (or in a ziplock bag stashed inside an adorable skull cookie jar) for up to 5 days…but honestly, I don't think they'll last that long.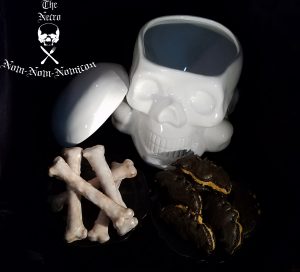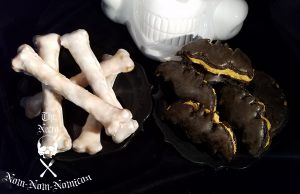 Bone appetite!
This post contains sponsored content brought to you by Sourpuss Clothing.  They were kind enough to send me this amazing cookie jar to promote in this post, but all opinions and views presented here are 100% strictly my own. Affiliate links included in this post help support the site. Sponsored posts like this allow me to keep bringing disgustingly delicious content to you for free! For further information please see my full advertising disclosure page.
Like what you see?  Want to see more?  Help me keep making my disgusting creations by visiting my Patreon page.
Please click HERE to support the Necro Nom-nom-nomicon



THIS WORK IS LICENSED UNDER A Creative Commons Attribution-NonCommercial, No-Derivatives 2.5 International License.  You're welcome to make anything and everything showcased on the Necro Nom-nom-nomicon, but may not do it for commercial or financial gain.  You may not copy, distribute or modify these recipes in any way without express written permission from the Necro Nom-nom-nomicon.  No recipe, tutorial or project may be used for commercial or profit use.
Related