Oubliettes are little dark holes where you put things to forget about them…and that's exactly what these little black balls of deep-fried dough are.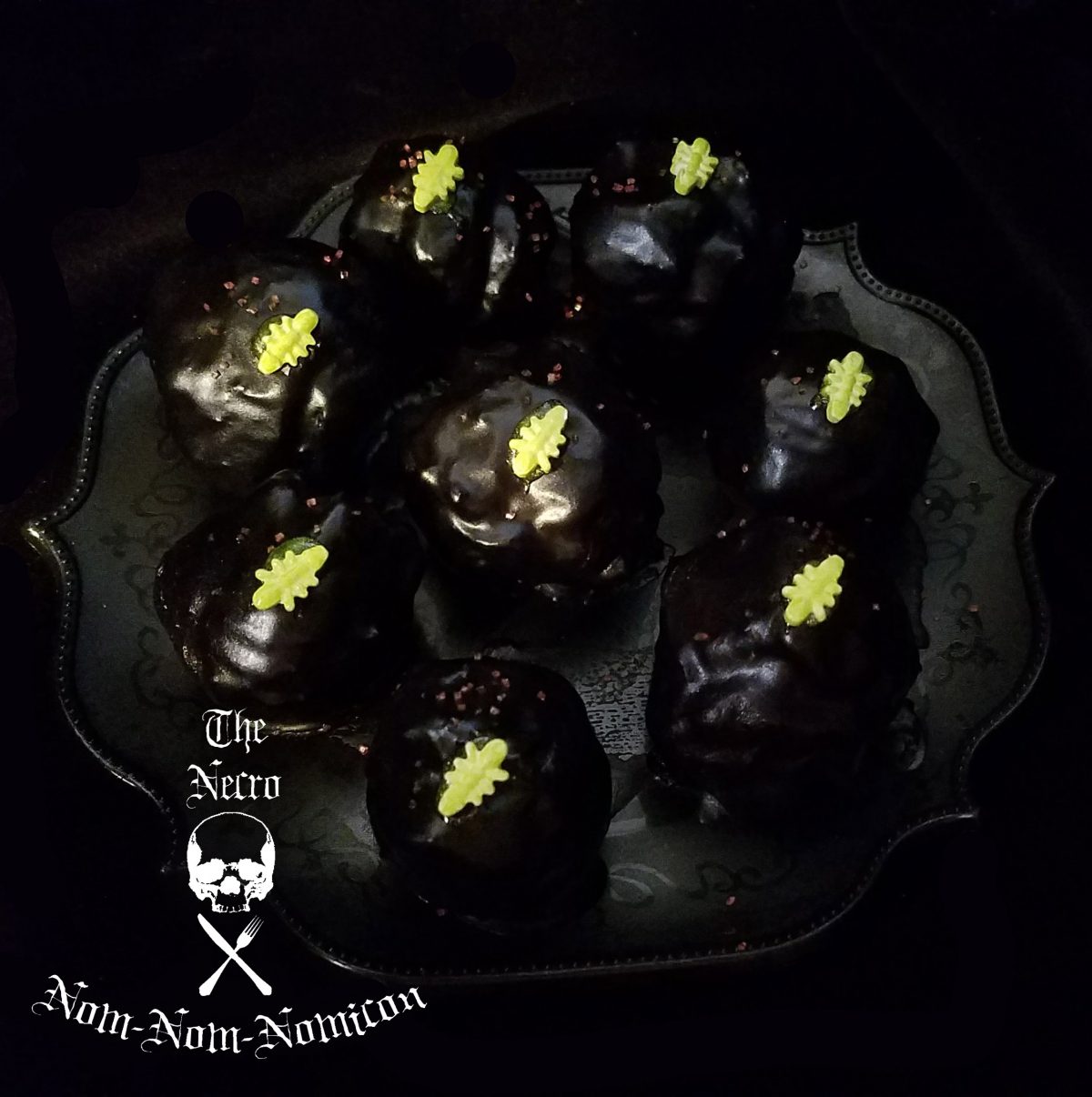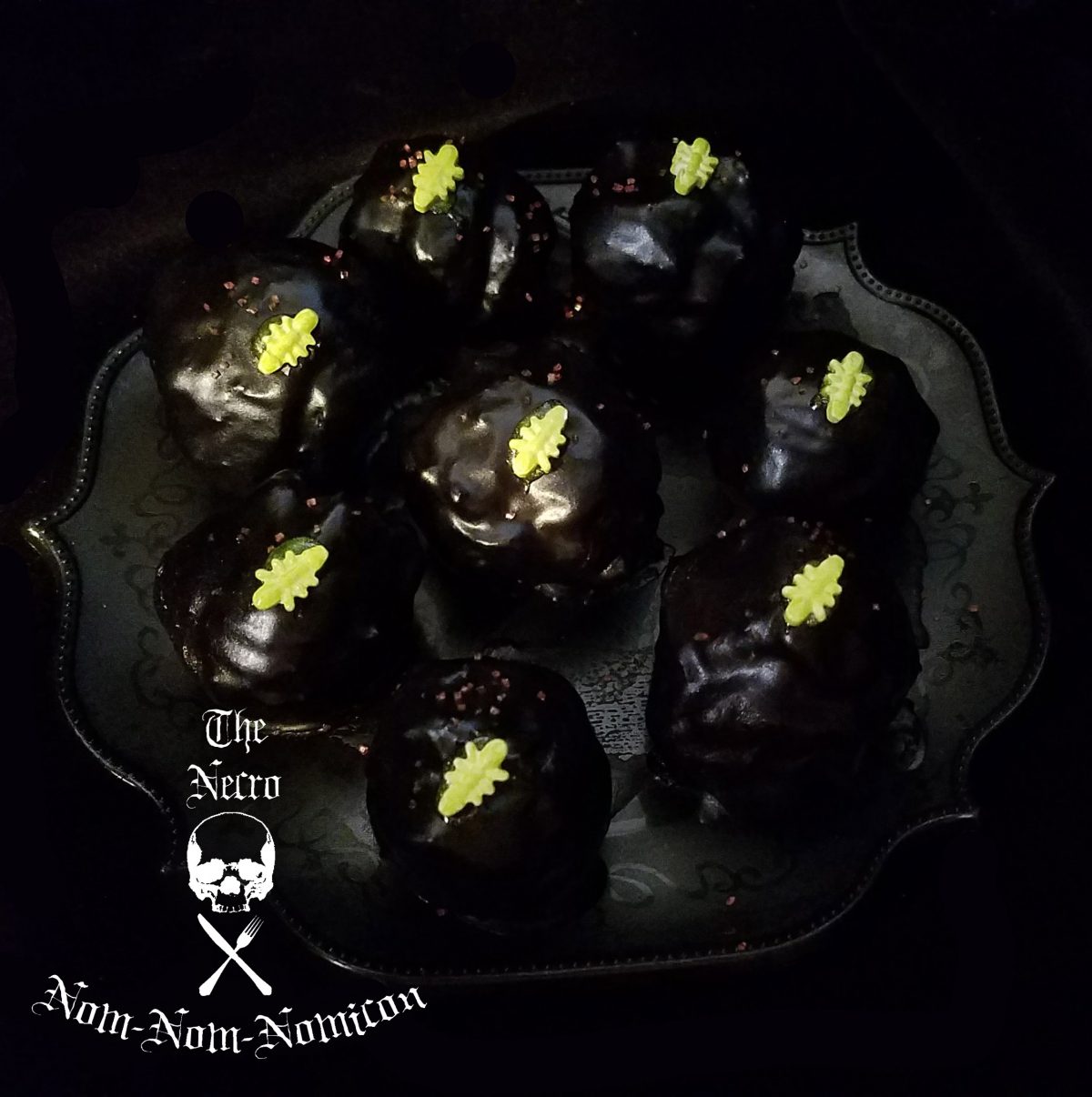 Like a donut hole, they're just the right size to pop in your mouth.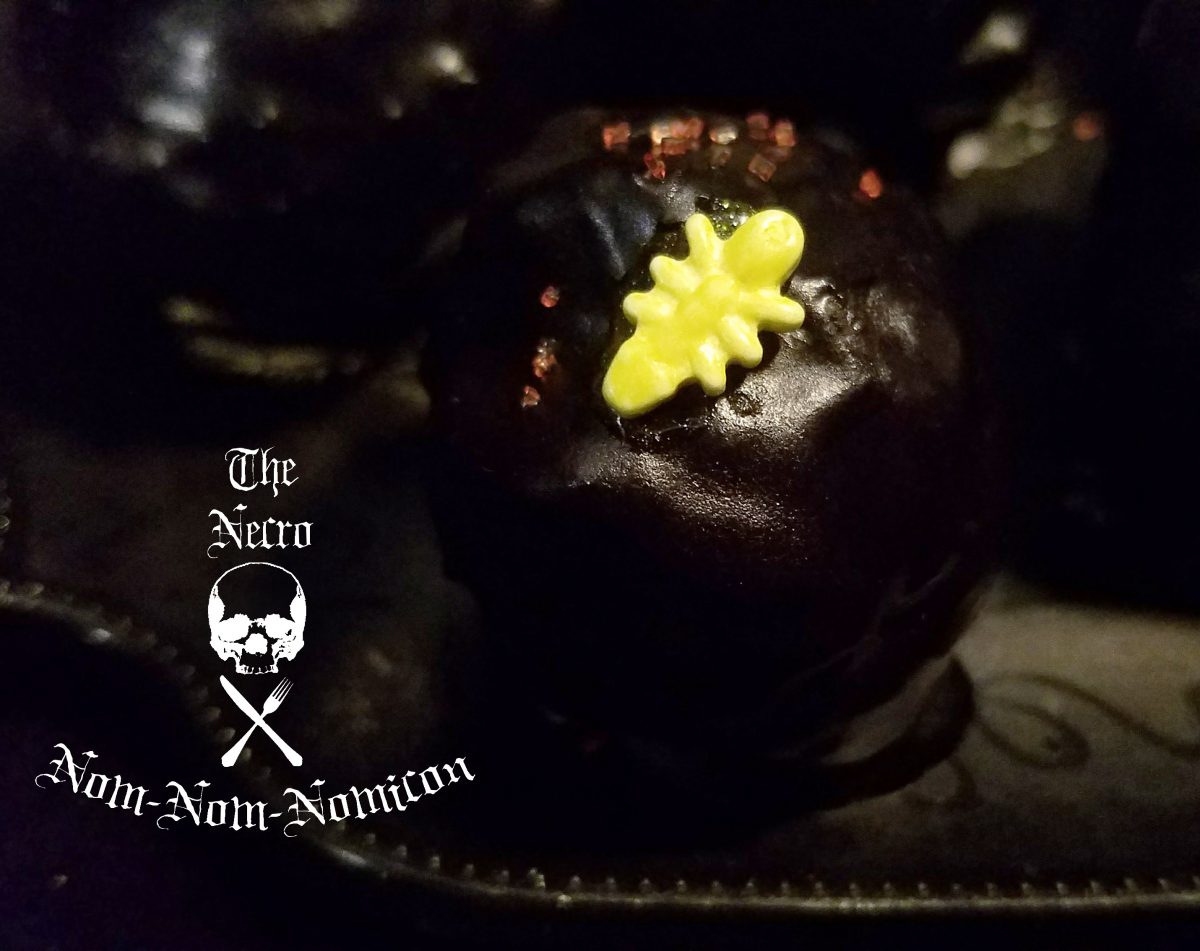 Unlike a donut hole, they're made with stretchy, chewy rice flour which gives them a texture that is dense and so satisfying to chomp through that it's' all too easy to forget how many you've eaten until you suddenly realize they're all gone.
To make your own deep fried oubliettes, you will need: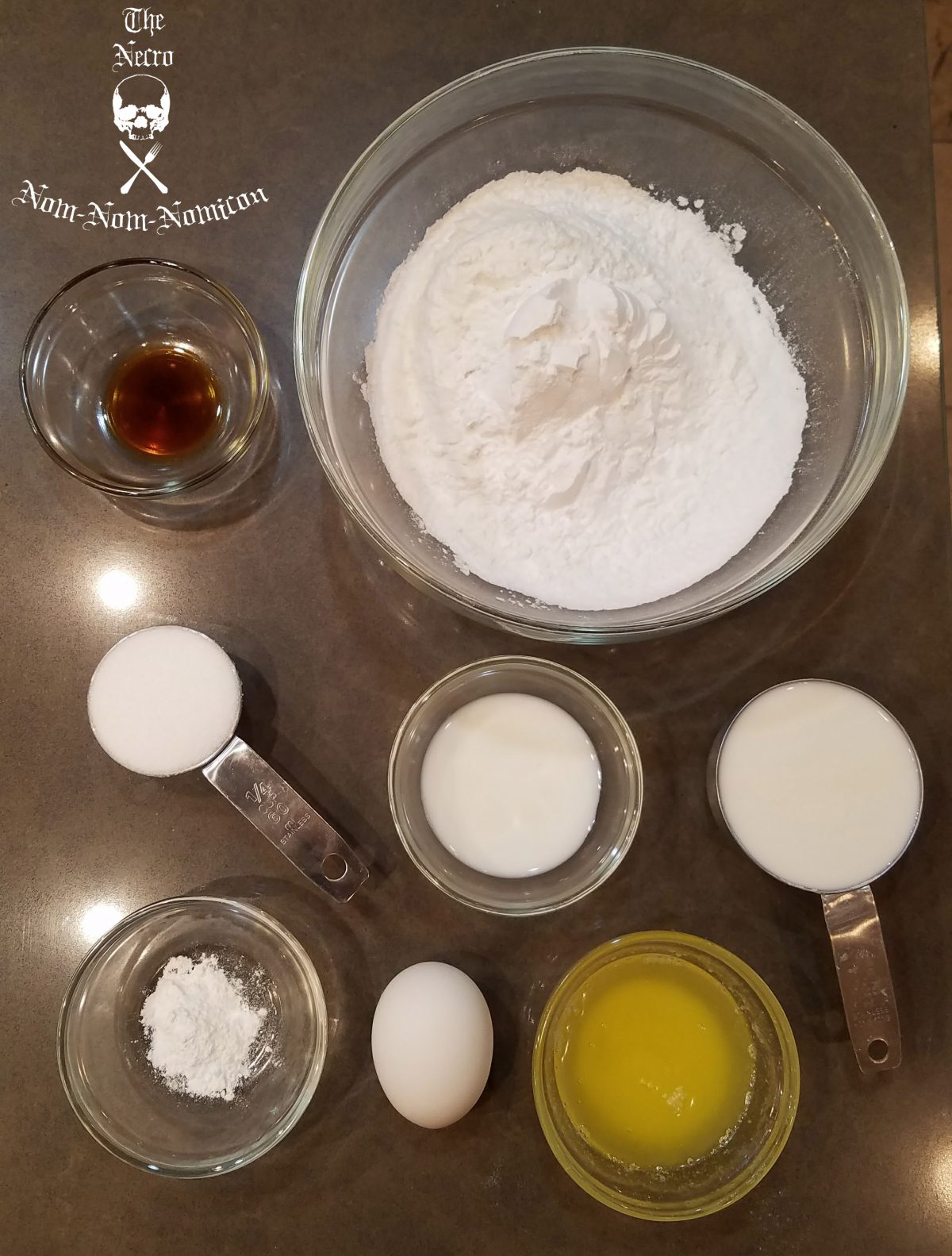 2 Cups rice flour
1/2 Cup whole milk
2 1/2 Tablespoons butter, melted
1/4 Cup sugar
1 egg
1 Teaspoon baking powder
1 Tablespoon vanilla extract
Black food coloring
4 cups frying oil
For the icing you will need:
1 Cup powdered sugar
1 Tablespoon powdered sugar
1 Tablespoon butter (again, melted)
Black food coloring
Sanding sugar (optional)
Rice flour is a tricky ingredient to use. If not properly incorporated from the start, it can be a bit of a pain in the butt later on, resulting in gluey blobs of gummy nastiness.  Heat your milk up until it's just below simmering.  You want it hot, but NOT boiling.  Add in your melted butter and mix well.
In a stand mixer with a dough hook, combine your rice flour, sugar, and baking powder.
With the mixer on low, slowly drizzle in your hot milk/butter mixture, followed by your egg, vanilla, and black food coloring.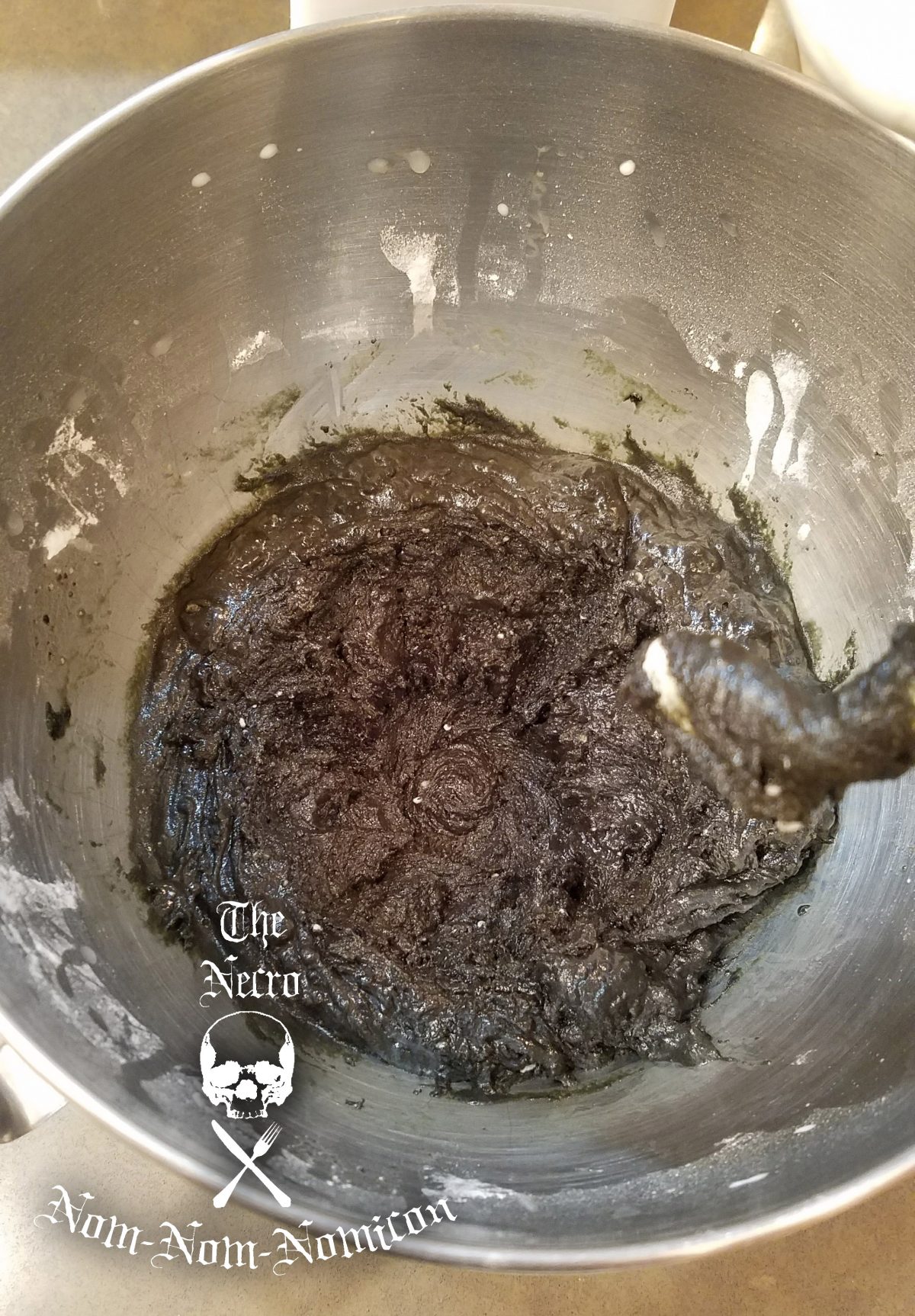 You should be left with a thick dough that, while slightly sticky, should still hold together fairly well.  If it's too dry, feel free to add in a little extra whole milk, a tablespoon at a time.
Dust your workspace and your dough ball with more rice flour and begin rolling it out.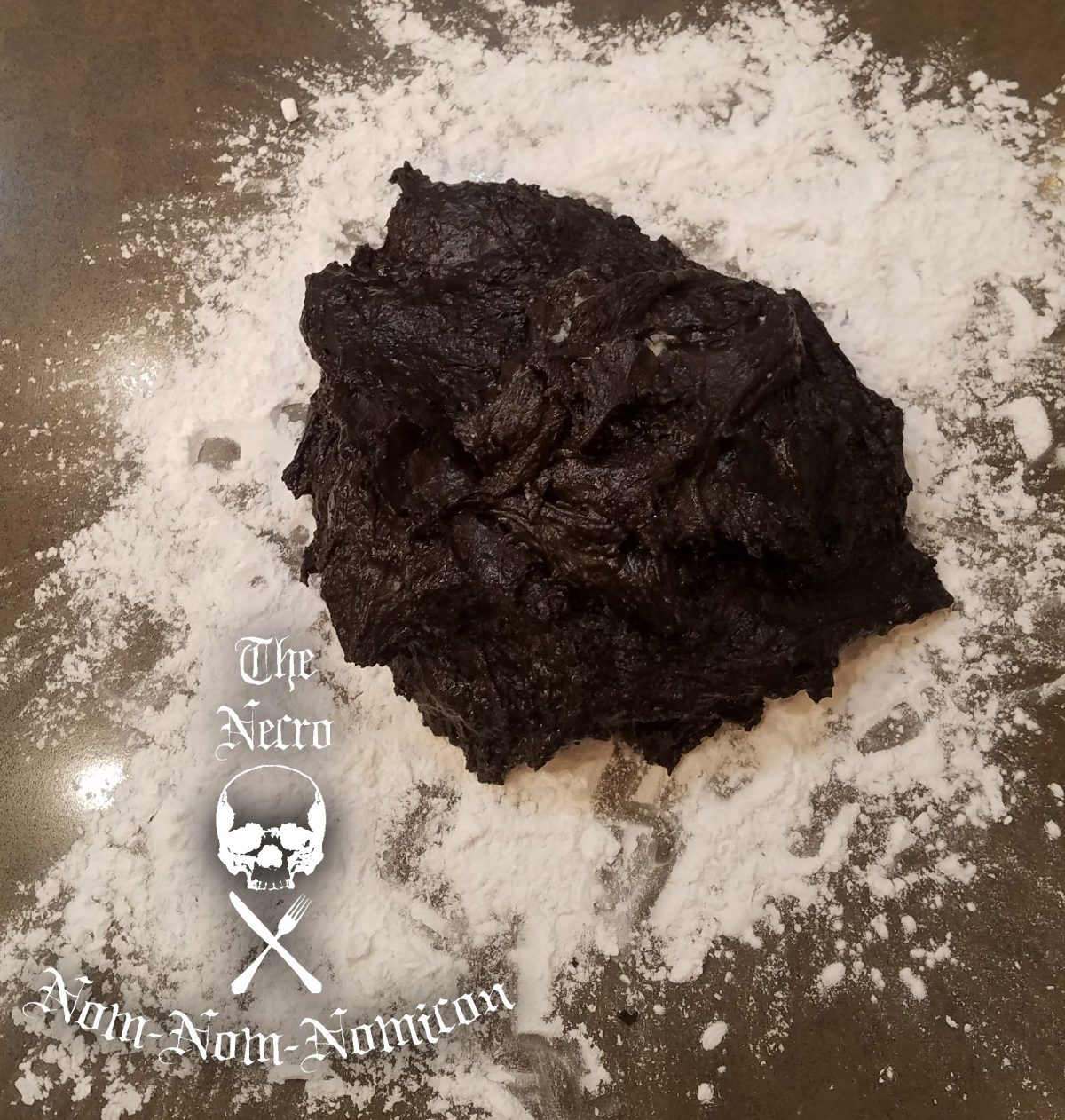 I rolled my dough until it was about 1/2 an inch thick.  Then, using a small circular cutter, I started cutting out dough disks.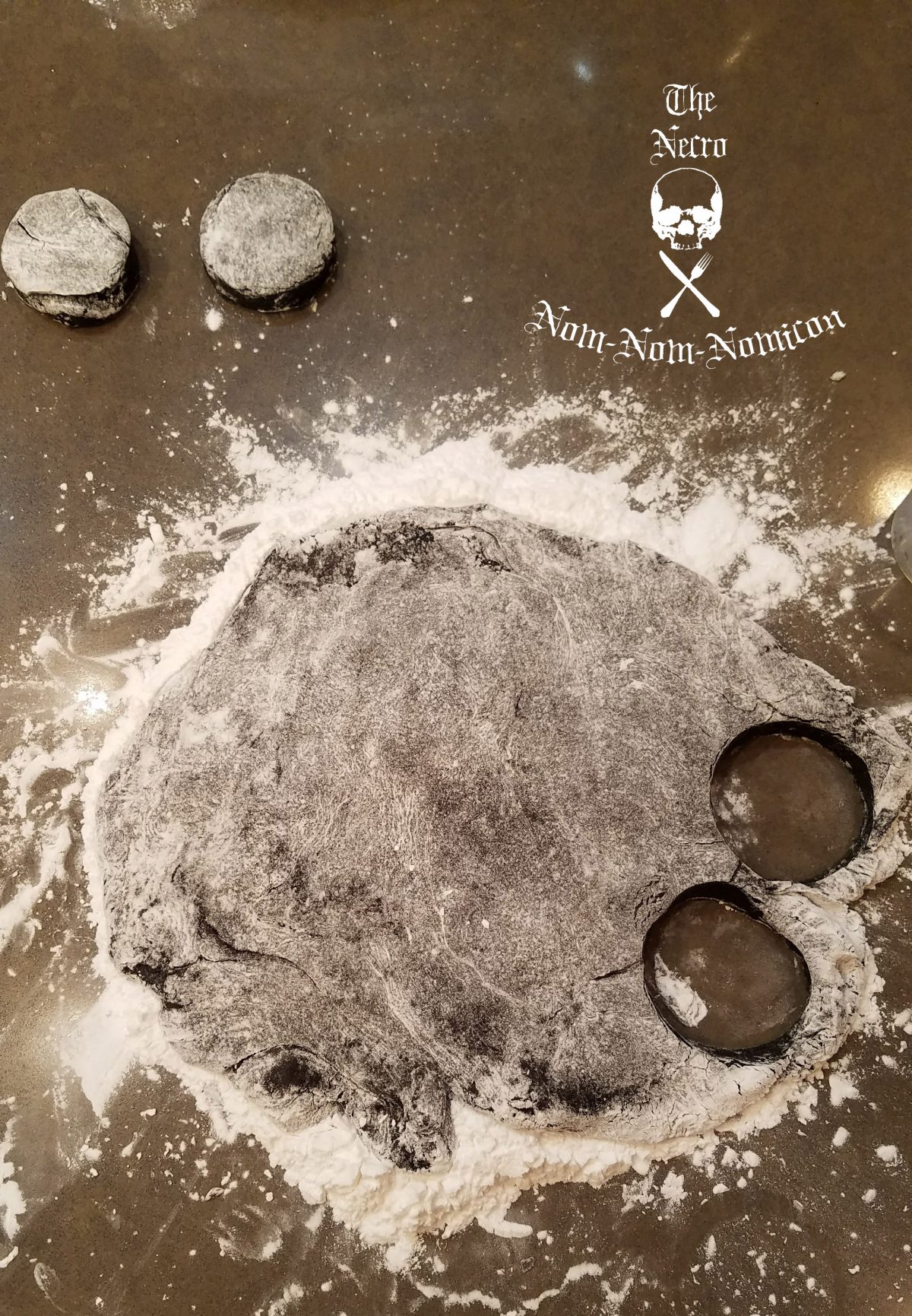 I managed to get about 24 discs from the quantity of dough I made using the above measurements.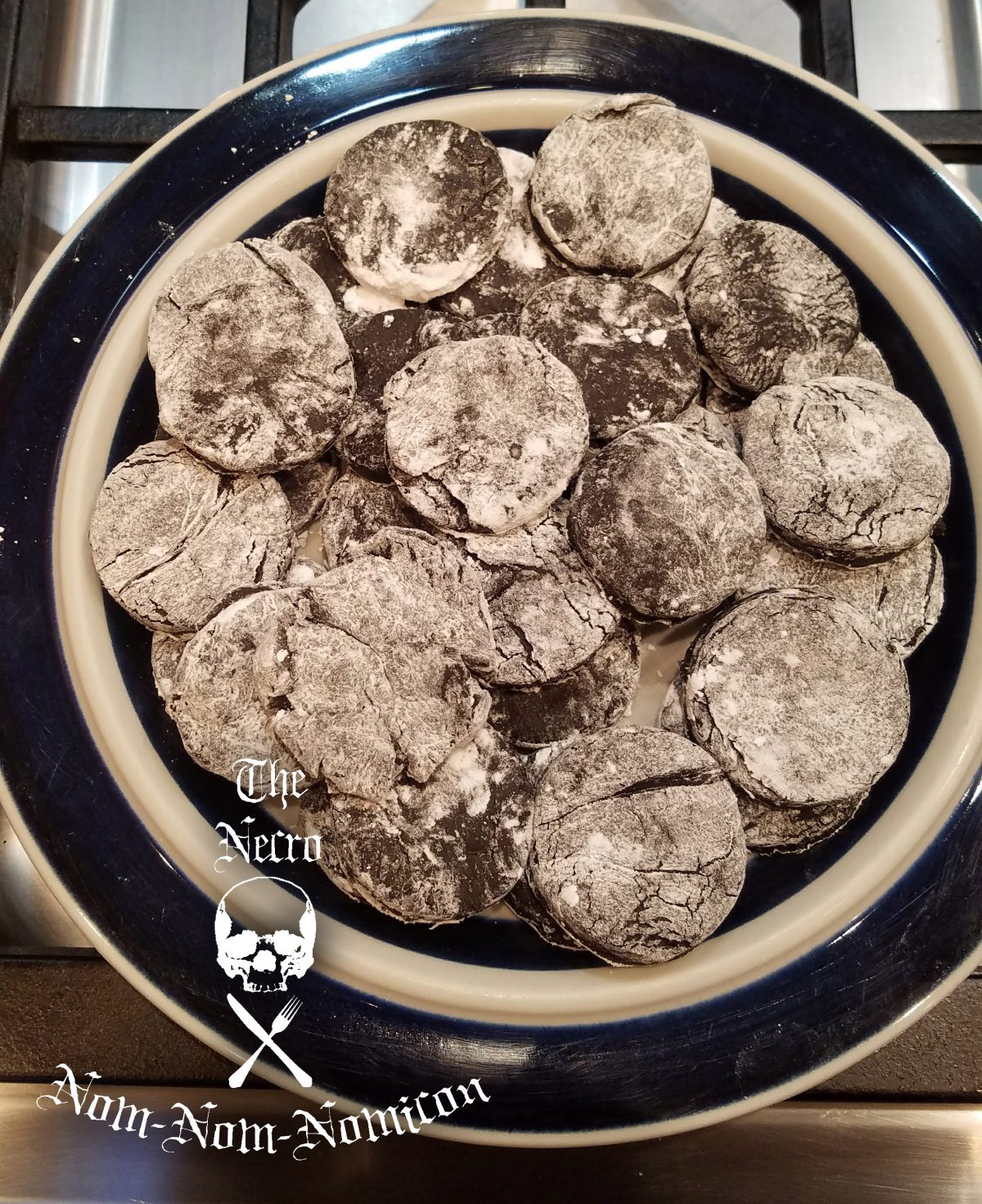 In a deep pot, bring your oil up to 330F/165C.
Roll each oubliette disk into a small ball and drop 3-4 of them at a time into your hot oil.  They will sink to the bottom of the oil at first, but should then rise and puff as they cook.  Allow them to cook for about 2 minutes or so.  Because they're black, it will be harder to tell when they're done, so be prepared to let the first few you cook go in the name of science.  Cook them, allow them to cool, crack them open, check for doneness, and adjust your cooking time accordingly.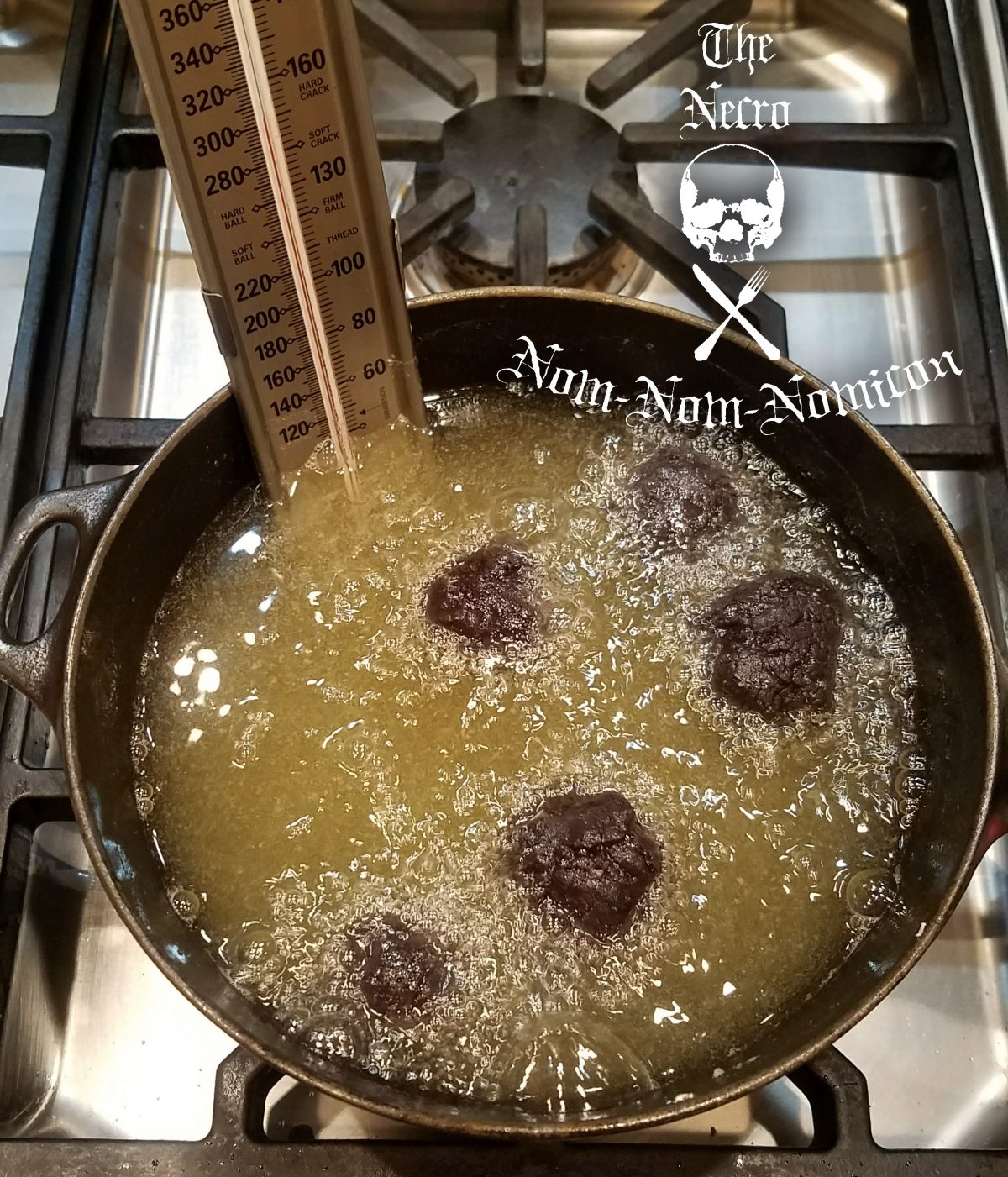 Allow them to drain and cool on a wire rack before coating them in icing.
To make the icing, mix together your powdered sugar, melted butter, milk and black food coloring.  You should be left with a runny icing that is a little thinner than room temperature honey.
Dip each oubliette in your icing and roll to coat evenly.   Remove from the icing and again return to the rack.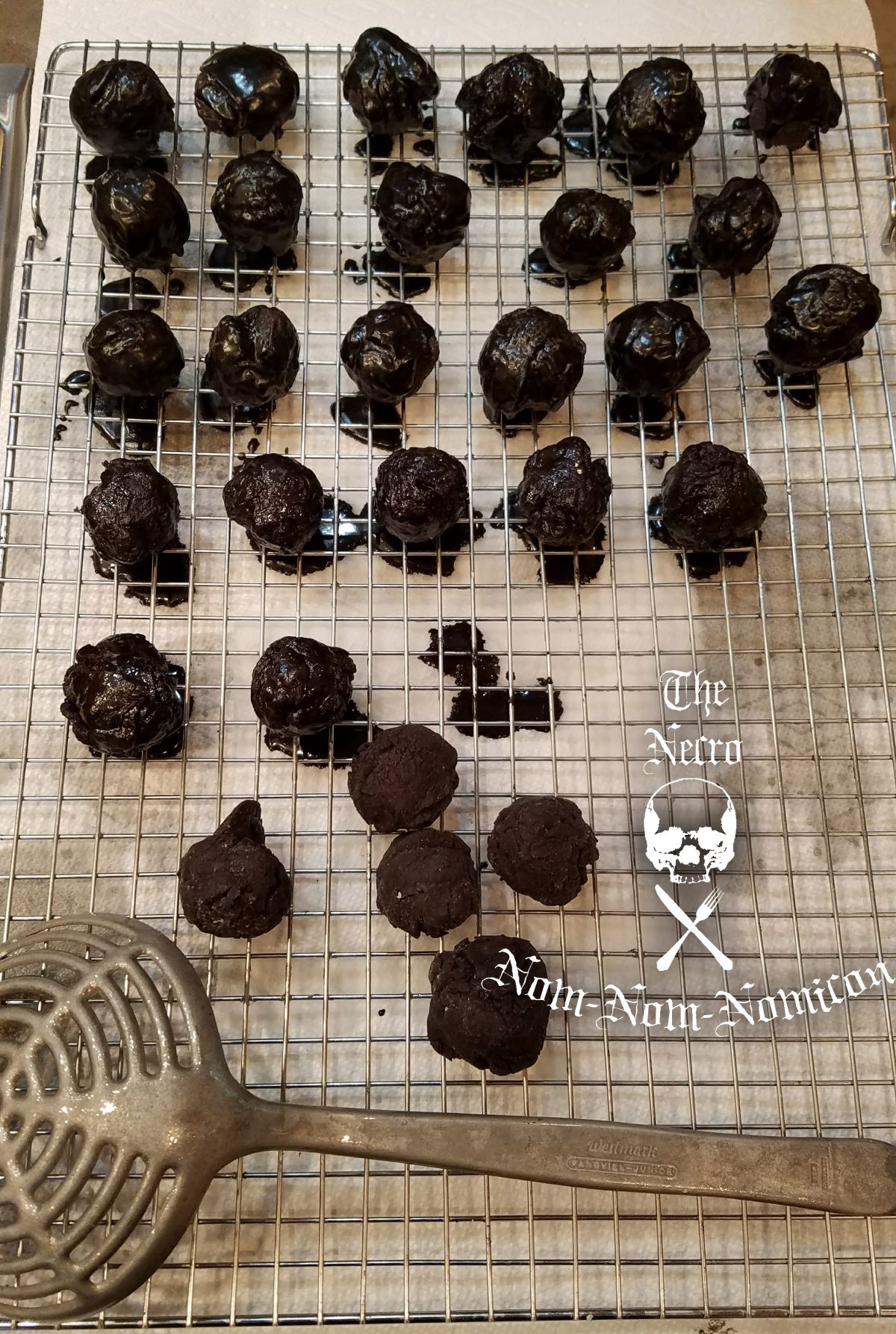 While the icing is still liquid, sprinkle on your sanding sugar and press in a single candy bug.  As it dries, the frosting will harden, creating a sweet shell around your oubliettes and helping to secure your sanding sugar and bugs.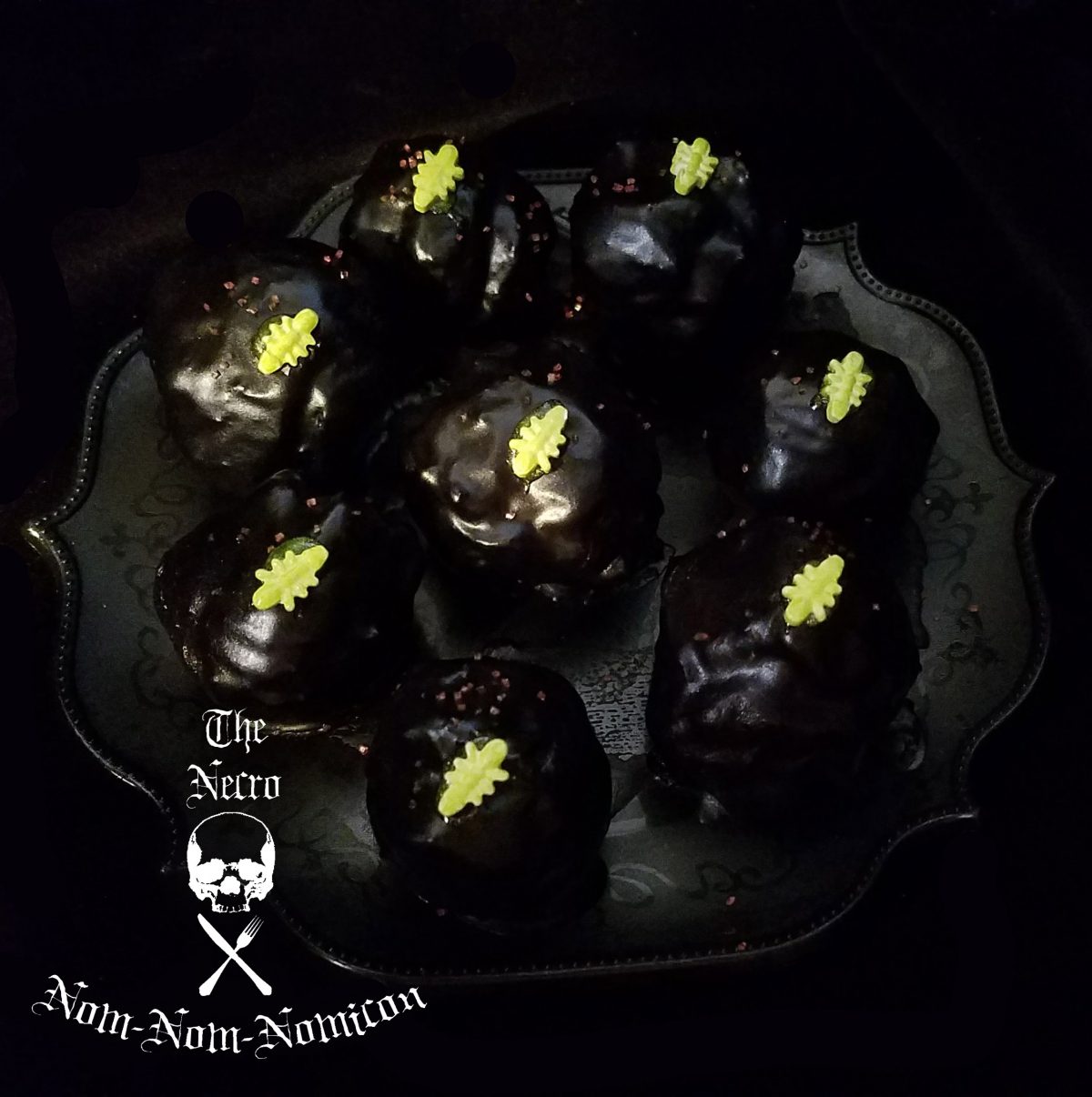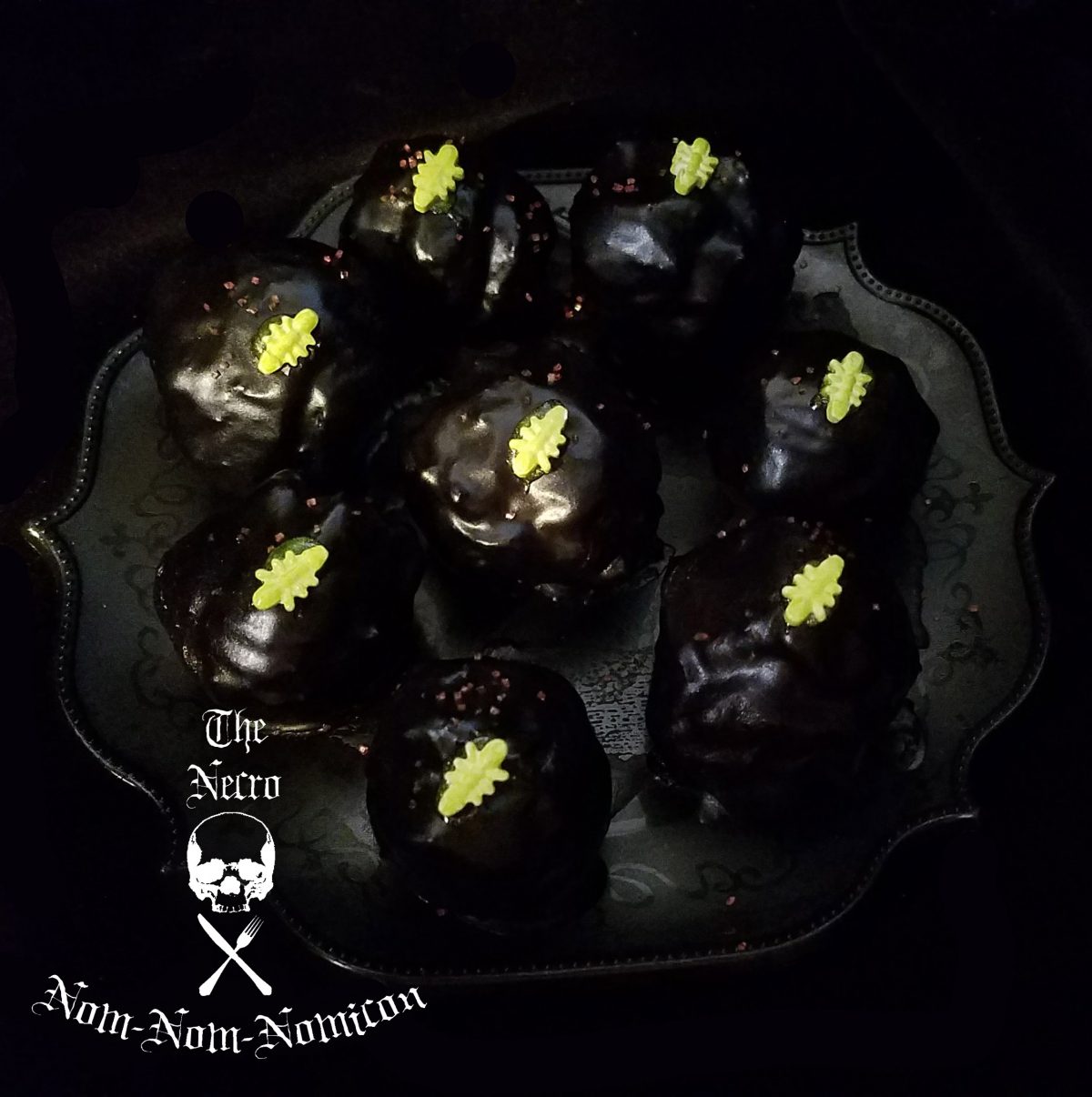 Plate up your oubliettes and enjoy!  They'll be crisp on the outside, with a center that is thick and chewy, almost like a dense marshmallow.
Serve them while they're still warm in the center, with a glass of ice cold milk.
Bone appetite!